The vision for Kapohoiki (our new property) is simple.  To develop our 10.83 acre piece of property into a fully functional camp and retreat center.  This includes the infrastructure to accommodate up to 200 guests at any given time of the year.  This would also include various traditional and high adventure recreational activities.
Below is a futuristic map of what our property could look like.  It would include the traditional facilities of a camp: lodge, cabins, fireplace, playing field, basketball and volleyball courts.  We would also like to include a reservoir for swimming and other water activities, a climbing wall and rappelling tower, vacation bungalows for visitors and staff, equestrian facilities and an indoor paintball arena to name a few.   This is our vision for this property and with Gods help we will see this vision become a reality.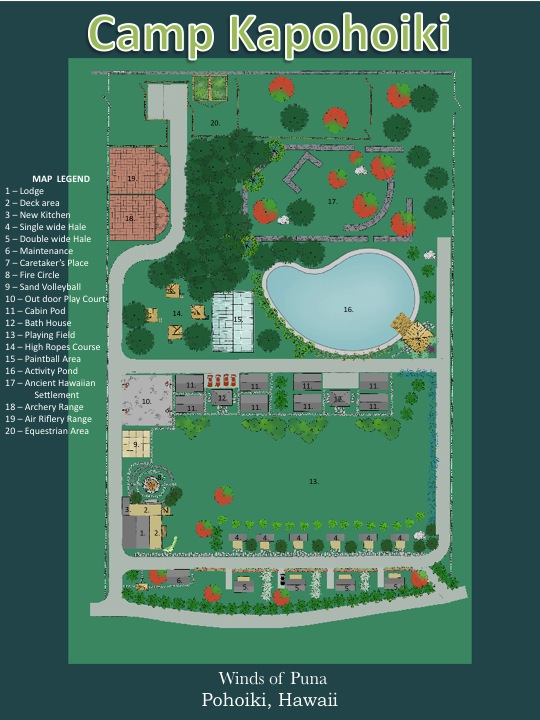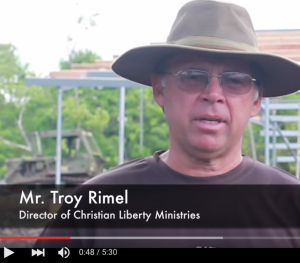 Watch Kapohoiki II Development Video
Kapohoiki-Phase I consisted of getting the property usable for two weeks of overnight camp for the Summer 2015 camping season.  With a budget of $25,000 we started Phase I.  This included clearing 1 acre of land, building a 40×60 lodge, installing water lines, making a fire pit, and various other projects for temporary recreational activities.  With Phase I accomplished, we now set our sights on Kapohoiki Phase II.  The major projects included in Phase II are:
-Completing the deck around the lodge
-Building a permanent certified kitchen
-Clearing land for a ball field
-Clearing land for the boys cabins, girls cabins, and staff cabins
-Beginning future permanent recreation activities (sand volleyball, basketball court, climbing wall)
God was very good to us and graciously provided the funds for Phase I and we are looking forward to how He will provide for Phase II.